Portable Appliance Testing
No need for paper, complete your certificates electronically
NEW FEATURE
CS Certs recently introduced an exciting new feature to enhance its already comprehensive service.
This latest addition offers a new Oil category with CD10, CD11 and CD12 certificates now available on all platforms.

BS 7671 Electrical Certificate Software.
Oil, Gas Safety & PAT Test Certificate Software – Try Free Today!
Still not sure about moving over to electronic certificates for speed and ease of use?  Then just pop on over and register for FREE. You will get a 14 day trial with no obligation. 
No credit card necessary.  Just register and get full access to all features for 14 days. It's that simple!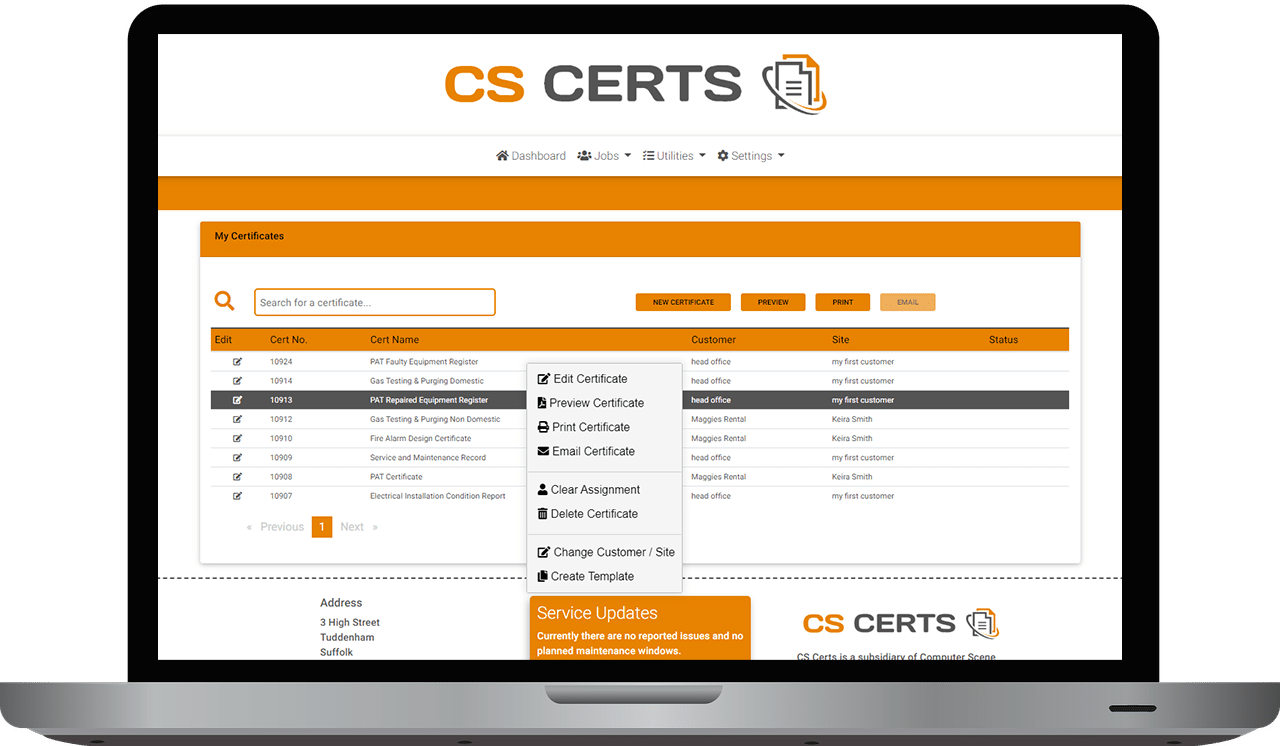 Welcome to CS Certs Online Electronic, BS 7671 Electrical Certificate Software
We offer the ability to complete all of your online electronic certificates.  Many businesses are now transitioning over to a paperless office.  With this in mind, CS Certs can help you.  Through our web application, you can complete certificates on any device.  Go paperless and save or email your certificates directly to the customer.
With iOS, Android and Windows applications, you can also complete your certification offline on any device.  Once you have an internet connection, just sync your data making it available in the cloud.
The App version has a Cable Calculator.  The calculated cable size is for guidance only for Domestic Twin and Earth Cables.  Single phase based on standard 230v and three phase on 400v installations.
We currently offer certificates for PAT Testing; Fire Alarm BS 5839-1:2017; Electrical BS 7671:2018; Gas Safety Certificates and Oil  CD10, CD11 and CD12 Certificates.
BS 7671
18th Edition Amendment 2 Certificates including, EICR, EIC, Minor Works and Minor Works 4 Circuits.
Ease Of Use
Can be used on many different devices either with or without an internet connection.
Create Templates
Copy any certificate in full to use on another job with similarities. Manage your templates.
Pay Monthly or Annually
Purchase your license and get access to all certificate categories.
Free Support
Support is included for every member. Either by email or telephone, we are here to help.
Job Calendar
Create jobs in the calendar and assign them to engineers. You can also add a certificate at the same time.

Manage your certificates anywhere
Working from the office or on-site you can create and access your certificates easily from any device.
Working online or offline, you can create certificates with one of our mobile applications.  Just sync it back to the cloud when you are back on an internet connection.